fembites
Regular price
Sale price
€4,00 EUR
Unit price
per
Sale
Sold out
Life is hard, chocolate helps!

femchoc is more than just a delicious chocolate. It's a vitaminised chocolate that helps you before and during menstruation. And the best part? You're supporting a womxn-owned business! 🌟

🌱 Especially for menstruators: Designed to support the needs of the female body before and during menstruation.
🌿 Plant power: Enriched with plant powders for a natural boost.
🌈 Vitamin B6: Contains vitamin B6, which helps regulate hormone activity.
🌟 Womxn Owned: Yes, you heard right! This chocolate comes from a womxn-owned company that is committed to womxn empowerment. 🌟

* Please note that supplements are not a substitute for a balanced diet and healthy lifestyle. Consult a doctor before taking a new food supplement
Who is behind the product?
What makes femchoc so special

💗 FAIR:

All employees in your supply chain are treated and paid fairly. The chocolate drops come from a woman-run cocoa farm in Peru, Cuzco. Of course, there are no children or slaves working on these farms. You can find out more here .

✅ VEGAN & ECOLOGICAL:

fembites only use plant-based ingredients. In addition, they only use recyclable & plastic-free packaging and value CO2-neutral production.

🥜 ALLERGEN FREE:

fembites produces allergen-free. That means: Free from the main allergens such as peanut, sesame, almond, gluten, egg, macadamia nut, soy, casein, lactose, milk protein, hazelnut, walnut.

⛔ FREE FROM BULLSHIT:

femchoc is free from added flavorings, artificial preservatives and artificial additives, i.e. all the things that nobody needs! ;)

🤝 FOR A HIGHER PURPOSE:

Eat chocolate and do something good for other menstruators? This works out! With every fembites product you support a person affected by period poverty @social.period eV . You can find out more here .

💡 FOR MORE ATTENTION:

With femchoc, fembites not only developed Germany's first chocolate that is vitaminized, no, they developed it to draw attention to the special needs of the female body before and during menstruation. You can find out more here.
Ingredients

Chocolate with plant powders, vitaminized. Cocoa: 65% minimum in the chocolate portion. Ingredients: Cocoa Mass, Coconut Blossom Sugar, Cocoa Butter, Raspberry Powder (2%), Rosehip Powder (1%), Yacon Root Powder (Smallanthus sinchifolius) (1%), Ashwagandha Root Powder (Withania somnifera) (0.5%), Red Maca Root powder (Lepidium meyenii) (0.5%), vitamin B6.
No substitute for a varied and balanced diet, which is important together with a healthy lifestyle.
Nutritional values

femchoc: composition

Average nutritional values ​​per 100g
Energy 2342 kJ/530 kcal, fat 44g of which saturated fatty acids 27g, carbohydrates 29g of which sugar 26.2g, fiber 6g, protein 6.6g, salt 0.08g, vitamin B6 1.4mg (=100%*)

Average nutritional values ​​per serving (25g)
Energy 585kJ/141 kcal, fat 11g of which saturated fatty acids 6g, carbohydrates 7.4g of which sugar 6.5g, fiber 1.5g, protein 1.7g, salt 0.02g, vitamin B6 0.35mg (=25%*)

*Nutrient Reference Value (NRV) for daily vitamin B6 intake
View full details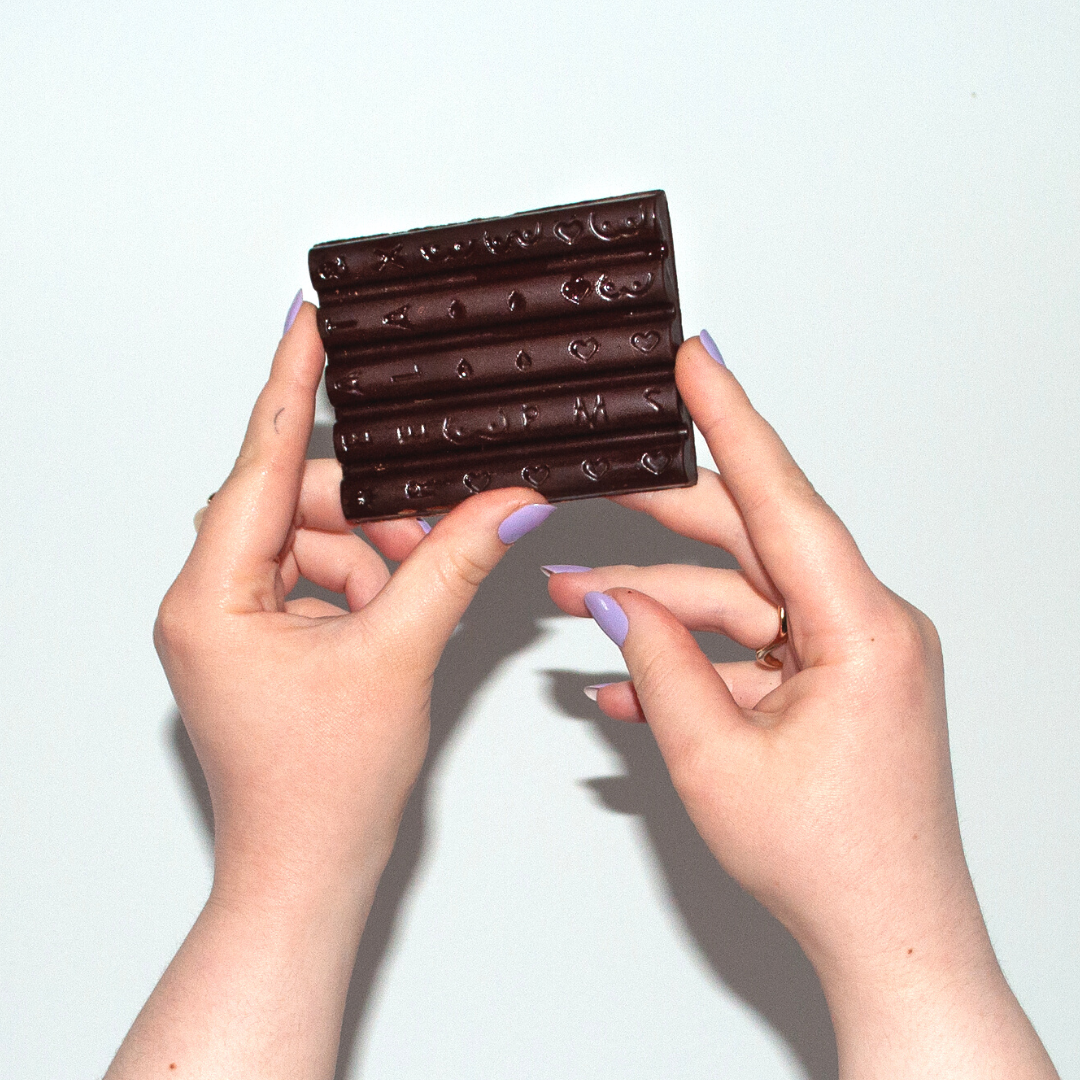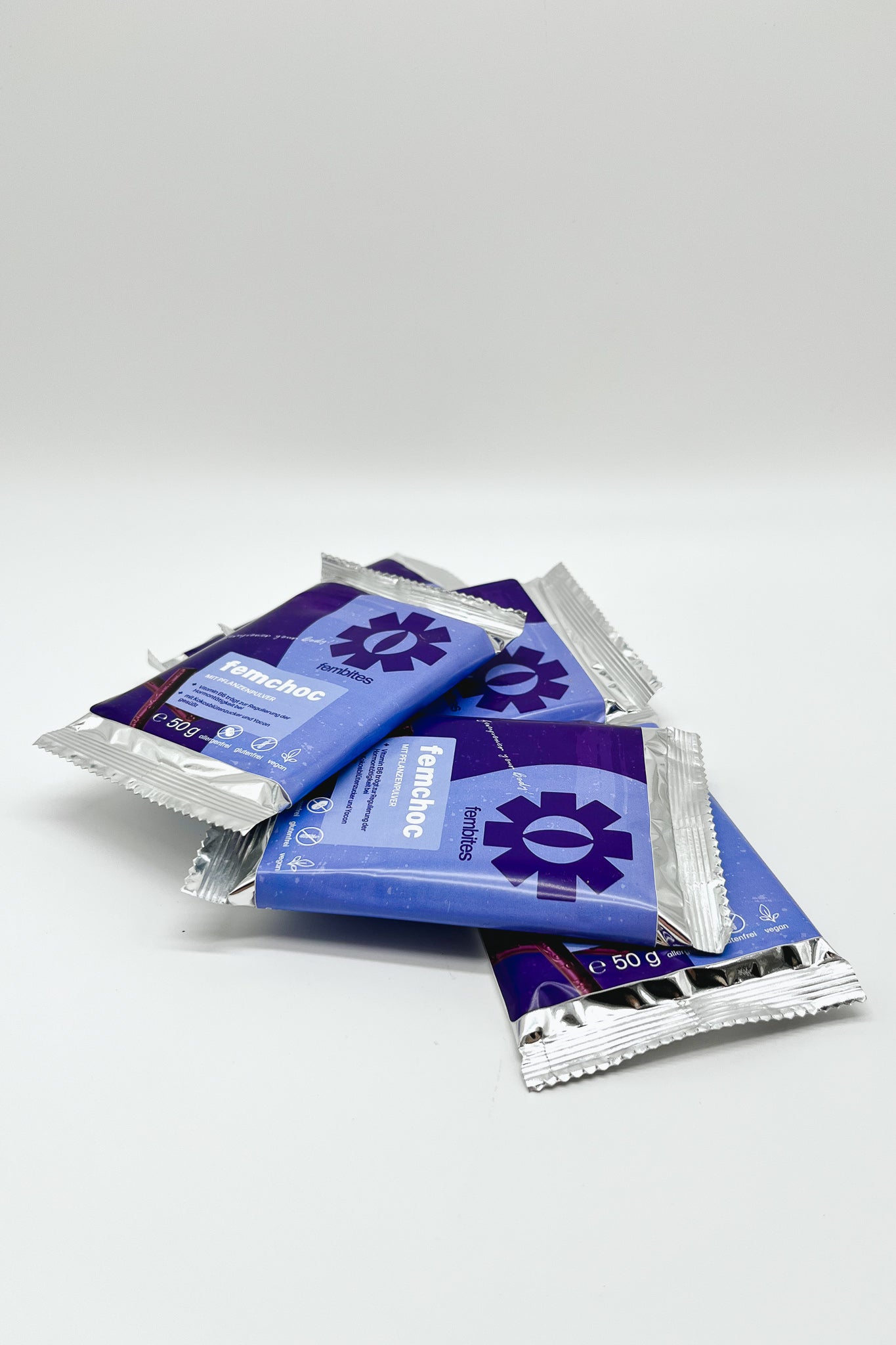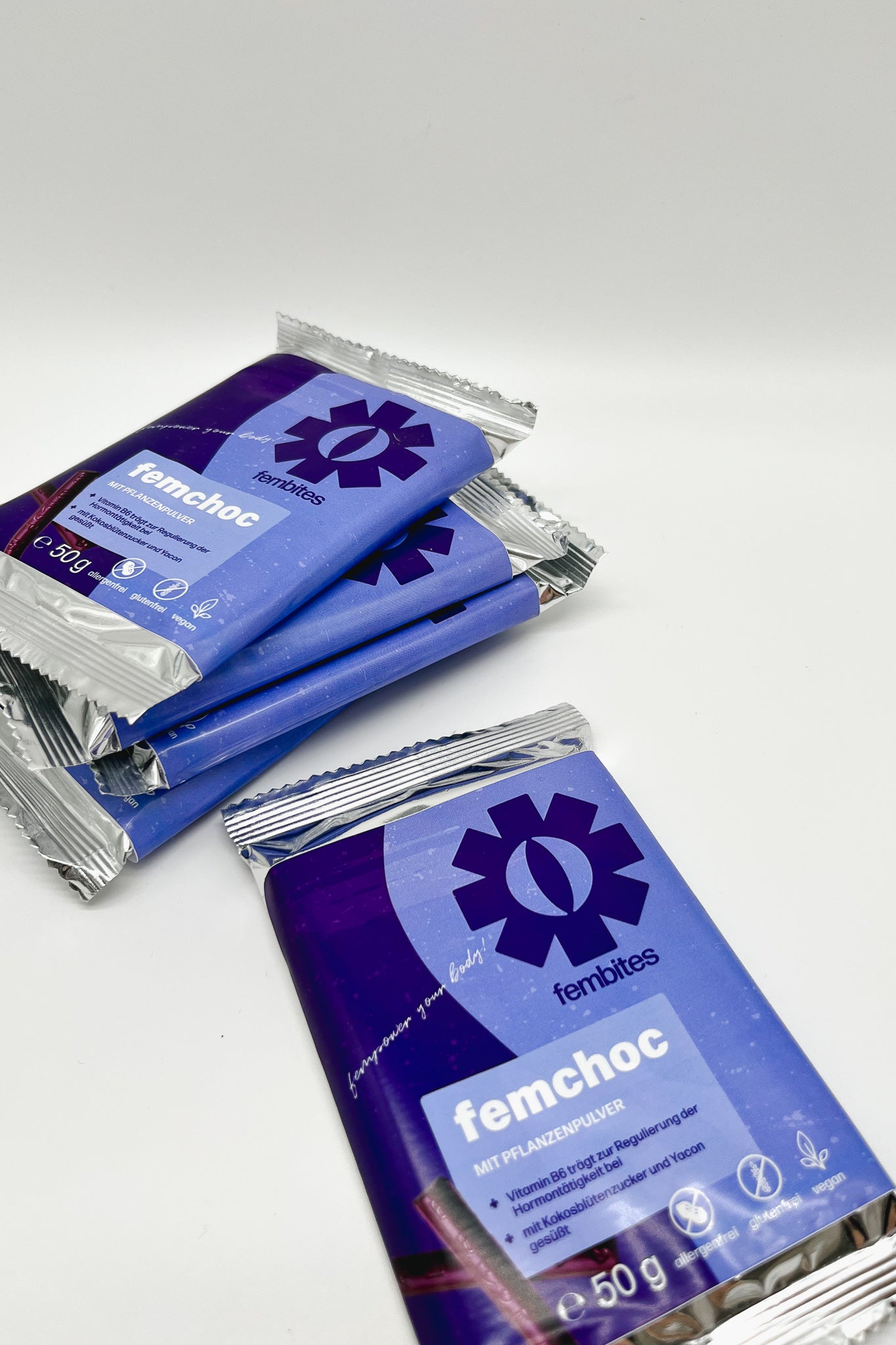 You would like more? We too!

Discover our most popular collections now.
This is how we send our packages
In Austria

Free from a purchase value of 100€. Otherwise 5€.

In Germany

Free from a purchase value of 100€. Otherwise €9.

To the EU (excl. Liechtenstein)

Depending on the EU country, between 10€ and 25€ shipping.
We pack as environmentally friendly as we can

We use 70% recycled and recyclable cardboard

and 80% recycled shipping bags

We try to send as few individual shipments as possible - for the sake of the environment ❤️