chammi
Regular price
€27,90 EUR
Sale price
€25,50 EUR
Unit price
per
Sale
Sold out
Everything your body needs periodically
💊3 month supply: Enough for 3 period cycles, based on chammi's recommended consumption recommendation.
❤️ Against period poverty: One euro from every can sold goes to the fight against period poverty.
Happy Days is a vital substance complex specially developed for women that is enriched with valuable vitamins, minerals and plant extracts. These plant micronutrients play a key role in the regulation of hormones and neurotransmitters of the nervous system. In addition, micronutrient medicine generally uses pain-relieving, mood-enhancing, supportive and anti-inflammatory vitamins, minerals, amino acids and plant components - everything your body needs during your period.
🌱 Pure and natural: chammi relies on natural support and deliberately avoids unnecessary chemicals. Only the best for your body!
🇩🇪 Quality from Germany: The products are manufactured in Germany according to the highest quality standards (IFS Food, HACCP, GMP, Made in Germany). Believe nothing but science! (and your uterus)
Support your body throughout your cycle and support a womxn-owned business at the same time 🩸🌟
Who is behind the product?
To Charlotte & Michael's profile
Ingredients

Magnesium oxide, glazing agent: hydroxypropylmethylcellulose (vegan capsule), rhodiola extract, turmeric root extract, L-tryptophan, ginkgo biloba extract, ferrous fumarate, zinc citrate, Panax ginseng extract, rice flour, cholecalciferol (vitamin D3), pyridoxine hydrochloride (vitamin B6), riboflavin (vitamin B2), chasteberry powder, thiamine hydrochloride (vitamin B1), black pepper extract, folic acid, methlycobalamin (vitamin B12)
Nutritional values

Nutrients: Per daily consumption (2 capsules)

Vitamin B1 2 mg (182% NRV*)
Vitamin B2 4 mg (286% NRV*)
Vitamin B6 6 mg (428% NRV*)
Vitamin B12 24 µg (960% NRV*)
Folic acid 80 µg (40% NRV*)
Vitamin D 20 µg (400% NRV*)
Zinc 10 mg (100% NRV*)
Iron 18 mg (128% NRV*)
Magnesium 300 mg (80% NRV*)
L-Tryptophan 140 mg
Turmeric root extract of which curcuminoids 160 mg 152 mg
Roseroot extract 160 mg
Ginkgo Biloba Extract 60 mg
Panax Ginseng Extract 28 mg Piperine 2 mg Chasteberry Powder 4 mg

* % NRV = nutrient reference values ​​according to VO (EU) 1169/2011
Recommended consumption

One capsule is taken daily in the morning and at midday with a glass of water and a meal. The period of intake should begin at least one week before the onset of menstrual bleeding and last approximately 10 days.

Important: Happy Days contains herbal adaptogens, which should be taken for around 3 months, i.e. three cycles, to achieve their full magic. So give them some time - with the consumption recommendation described above, one can of Happy Days lasts for three cycles!

chammi's tip: If the symptoms are very severe, you can take two Happy Days capsules daily without taking a break.

The recommended daily dose should not be exceeded. Dietary supplements should not be used as a substitute for a balanced and varied diet and a healthy lifestyle
View full details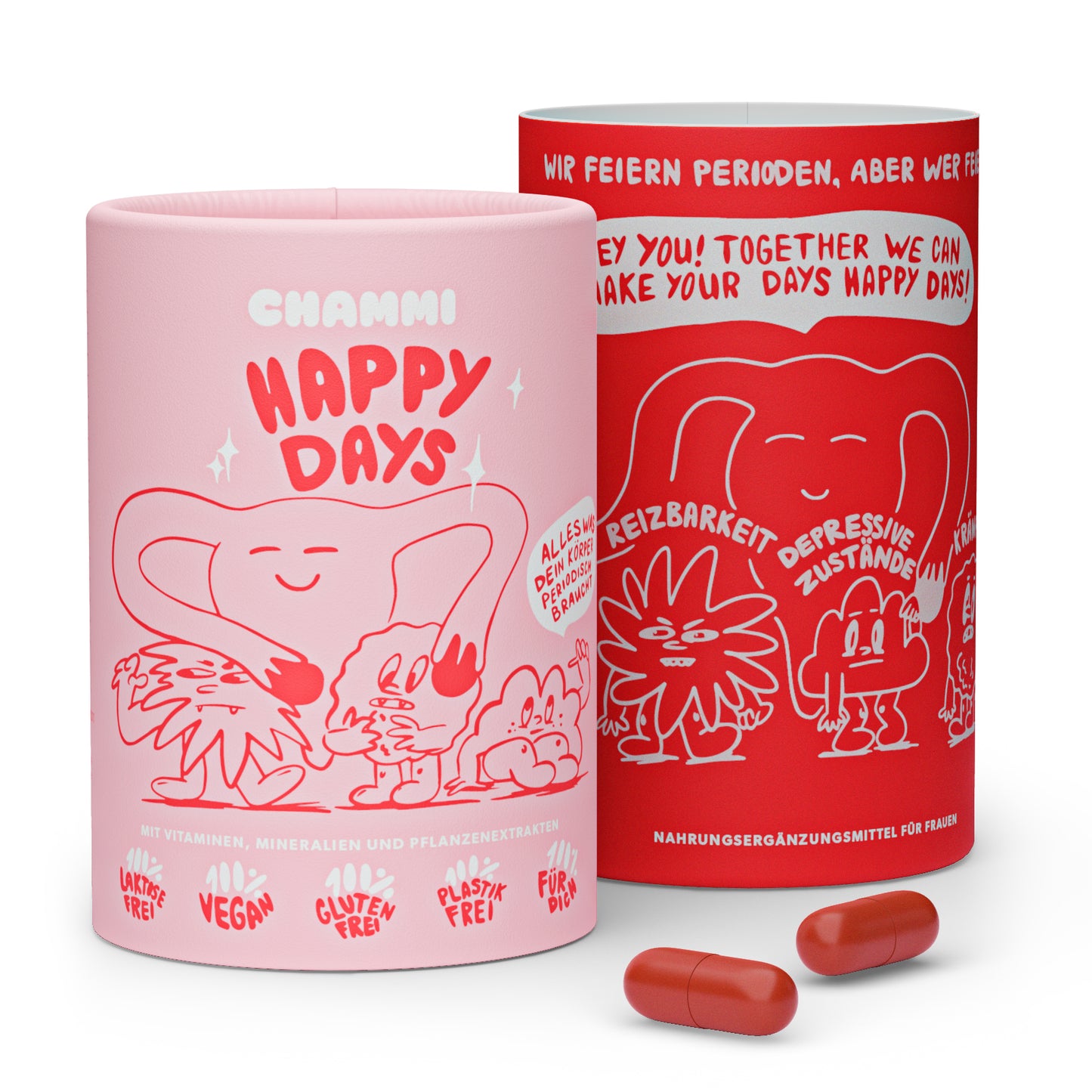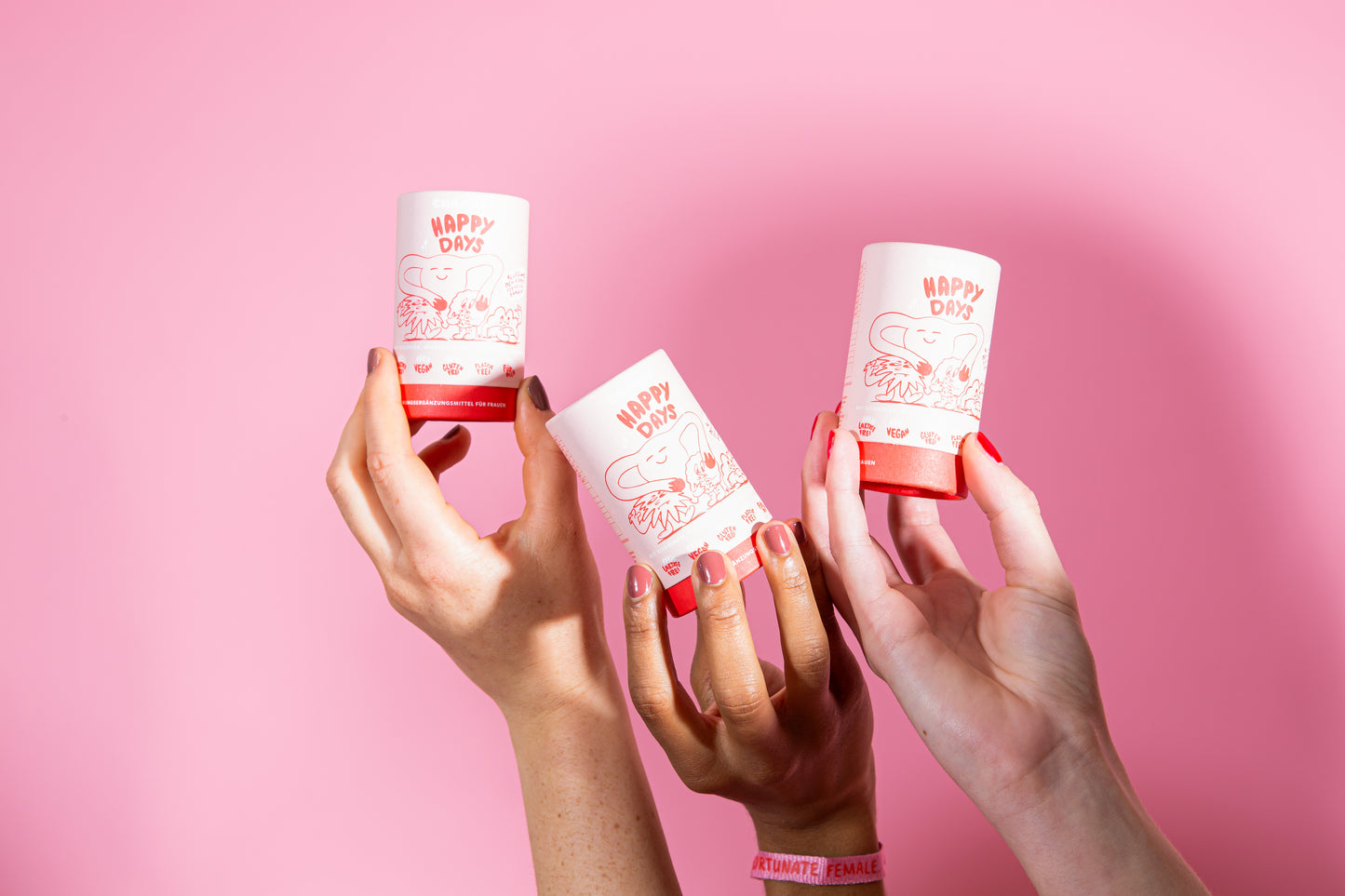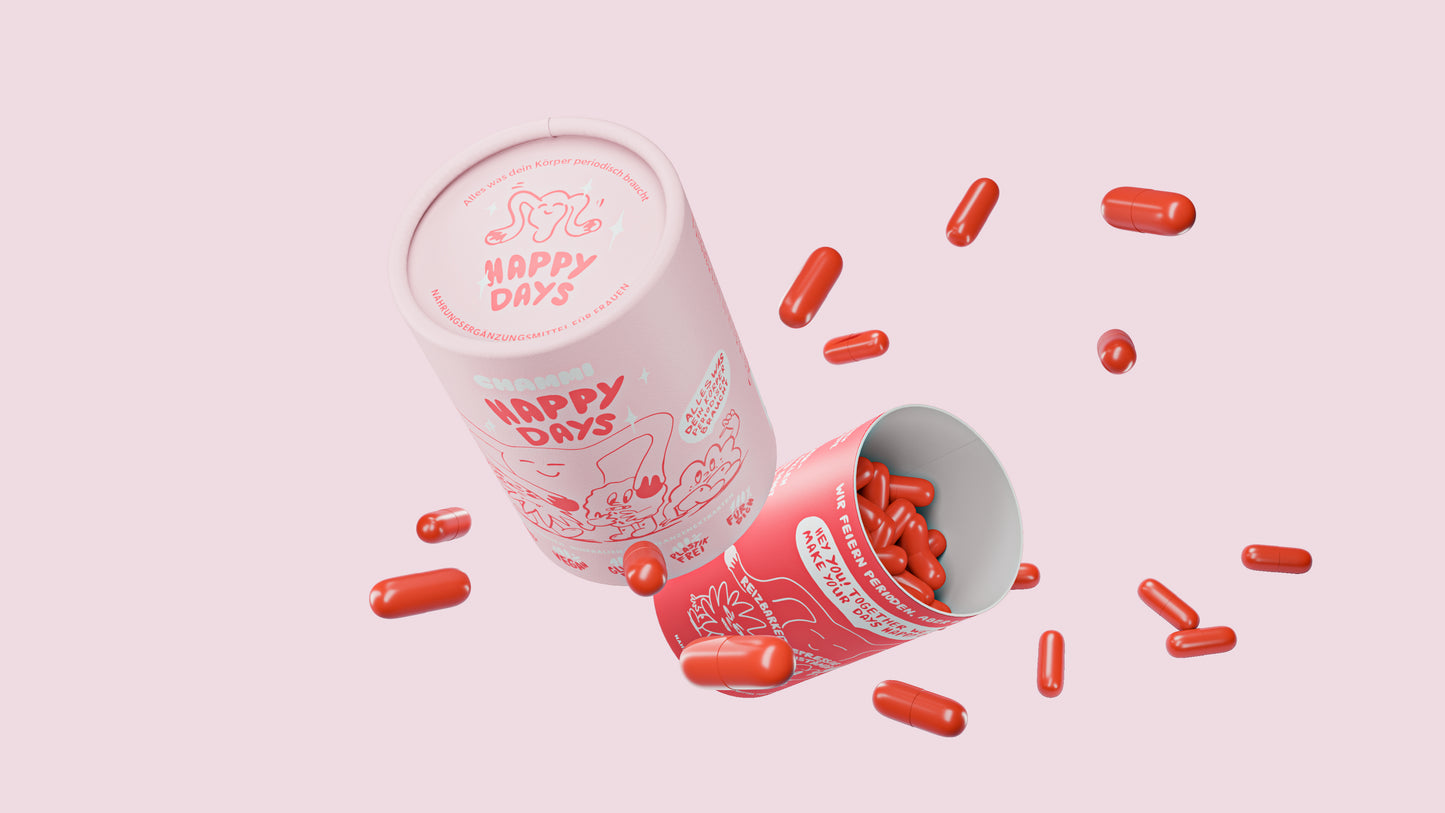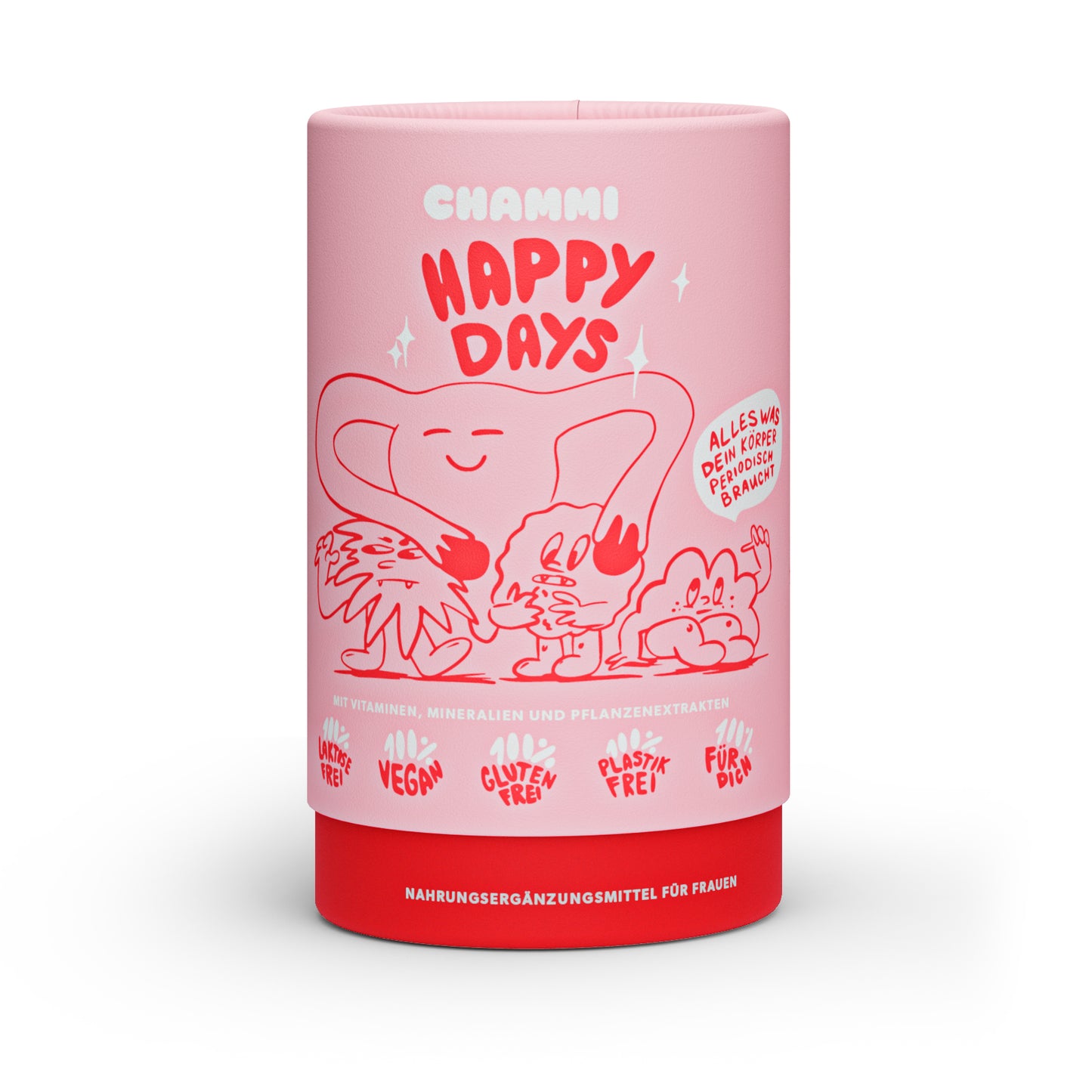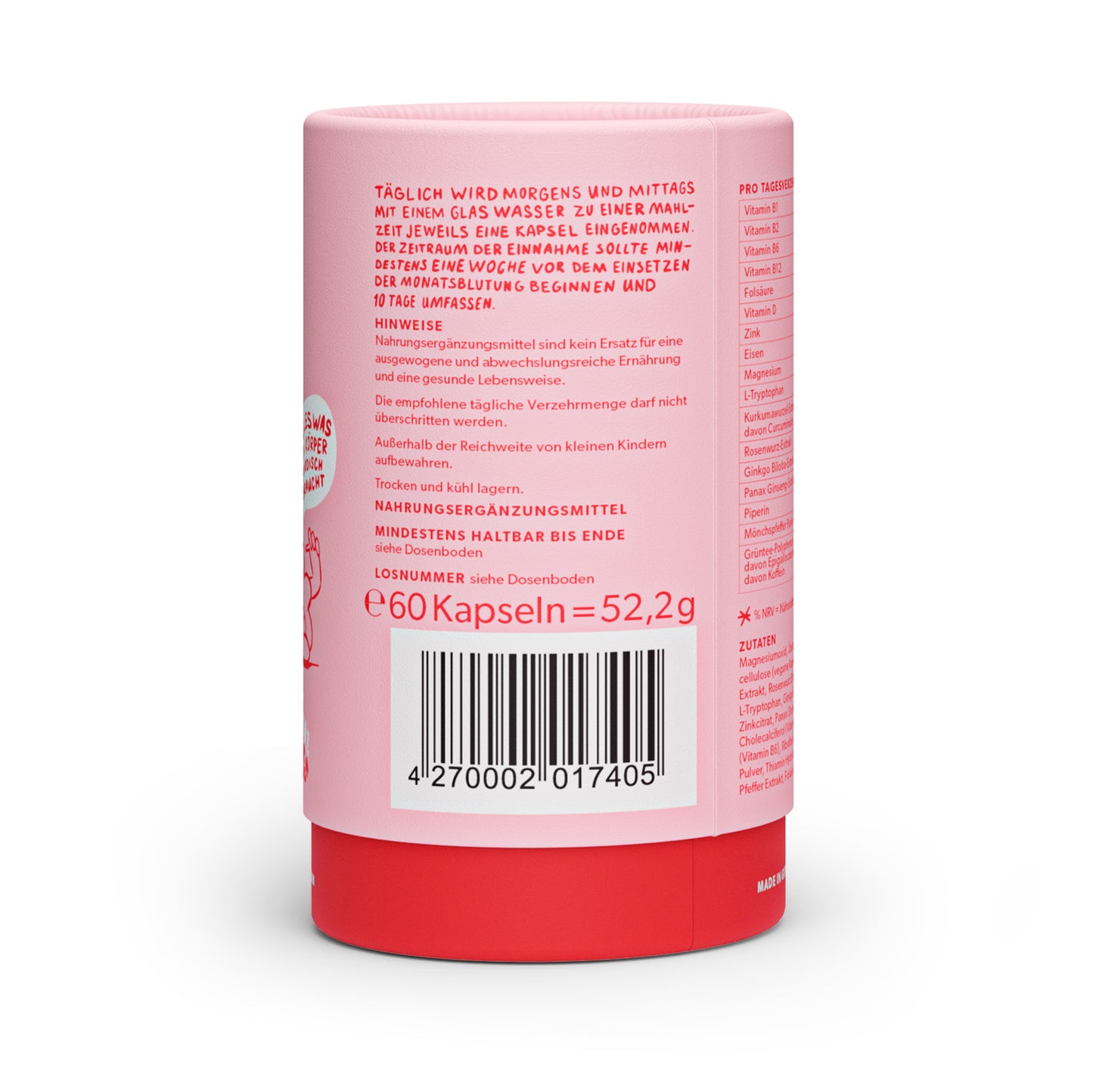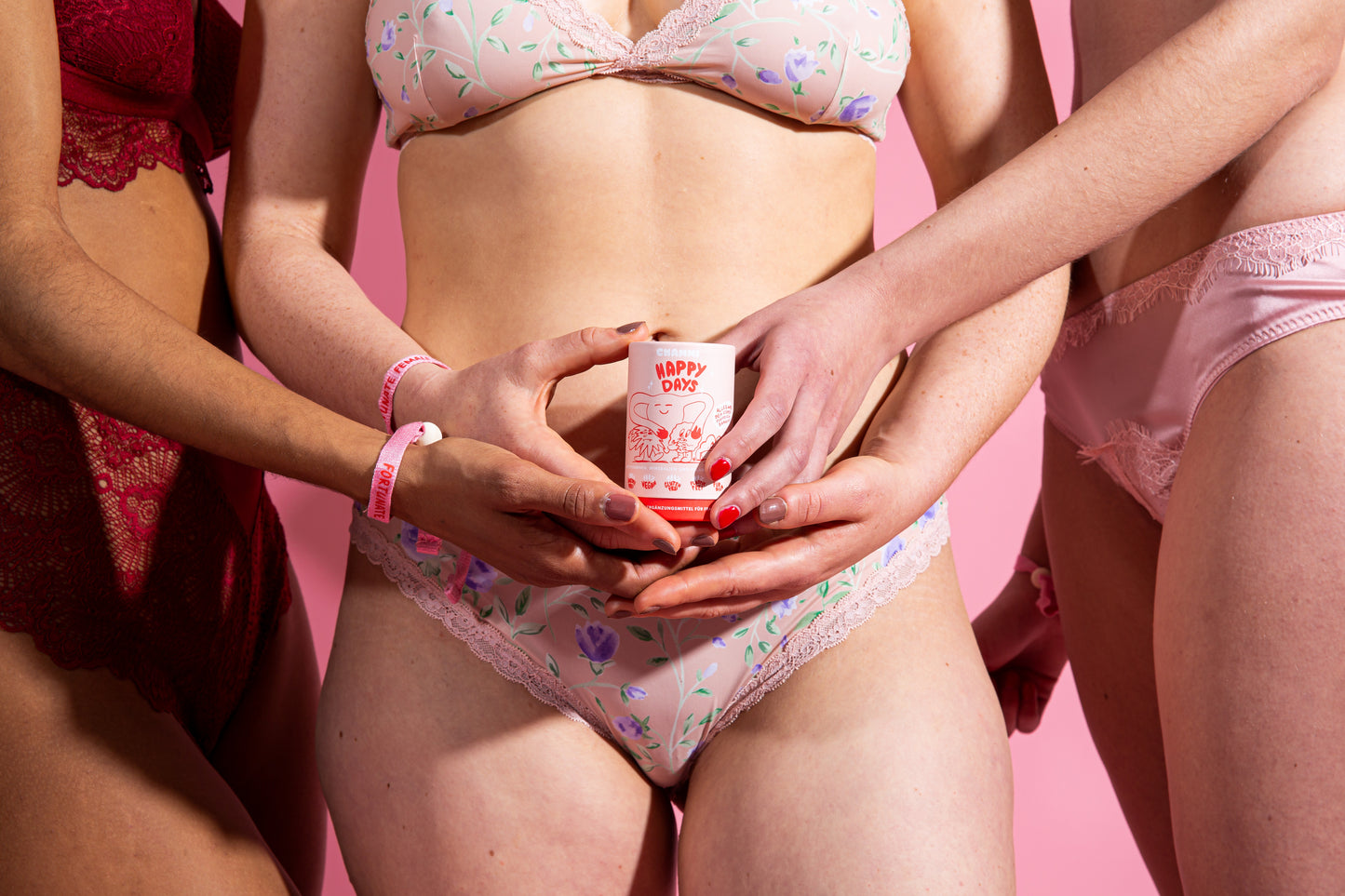 Would like more? We also!

Discover our most popular collections now.
This is how we send our packages
In Austria

Free from a purchase value of 100€. Otherwise 5€.

In Germany

Free from a purchase value of 100€. Otherwise €9.

To the EU (excl. Liechtenstein)

Depending on the EU country, between €10 and €25 shipping.
We pack as environmentally friendly as we can

We use 70% recycled and recyclable cardboard

and 80% recycled shipping bags

We try to send as few individual shipments as possible - for the sake of the environment ❤️