Vulva Shop x Mama Matters
Regular price
€55,00 EUR
Sale price
€39,99 EUR
Unit price
per
Sale
Sold out
Not only for mothers

Are you the person who is always there for others, whether as a partner, friend or family member? Then this specially curated feel-good box is just the thing for you! In collaboration with Mama Matters, we've put together a set that will pamper you or your loved one from head to toe.

🌿 Soothing Nipple & Lip Balm: A multi-tasking balm that cares for both your lips and sensitive skin areas.
🌙 Pillow Spray: A soothing pillow spray for a restful night and sweet dreams.
💌 Matriarchy Postcard: An inspirational card that celebrates the power of matriarchy and is perfect as a decoration or a loving message.
🌟 Womxn Owned: With the purchase of this box, you are supporting a womxn-owned business.

Pamper yourself or your loved ones with this lovingly crafted box that focuses on care and wellbeing. 🎁🌸💖
Soothing nipple & lip balm

PATIENCE IS THE KEY. Designed to heal cracked nipples and soothe soreness between feeds, this balm is a real multi-talent. Its organic ingredients keep your lips soft throughout the winter and beyond.

Why do i need this

- Breastfeeding is a journey that can start with severe pain and cracked nipples. This is normal: Your nipples used to not feed a hungry baby every 2 hours.
- 100% organic ingredients
- Moisturizes and aids healing
- It is fragrance-free and promotes skin-to-skin bonding with your baby
- You don't have to remove it before feeding your baby
- You can also apply it to your lips

Fresh, natural ingredients

Butyrospermum Parkii (Shea) Butter*, Triticum Vulgare (Wheat Germ) Oil*, Lanolin*, Cera Alba (Beeswax)*, Tocopherol*
*Ingredients from Organic Farming20ml

- Shea Butter: is an excellent moisturizer for the body, can reduce inflammation, irritation and itching
- Wheat Germ Oil: provides a healthy infusion of vitamin A, vitamin D, B vitamins, antioxidants and fatty acids excellent for moisturizing the skin
- Lanolin: is a deeply moisturizing oil extracted from sheep, a truly natural skin conditioner
- Beeswax: helps to heal and protect your skin. It contains vitamin A, which is helpful in softening and rehydrating dry skin and in cell regeneration

That's how it's done

Apply it to your sore nipples after breastfeeding. You don't have to wash your breasts before breastfeeding your baby. The balm is also great for applying to your lips or other dry areas of your body.
Pillow Spray

ALLOW YOURSELF TO PAUSE. Stop thinking and start dreaming: it's bedtime! Our gently scented pillow spray helps you get back to sleep between late-night breastfeeds and annoying toilet breaks. Simply spray from the pillow and fall asleep relaxed. You will wake up refreshed and ready for a new day.

Why do i need this

- Helps improve sleep quality
- 100% organic ingredients
- Perfect for sensitive skin
- Soft, refreshing scent
- Calms and relaxes
- Pocket-sized
- For pregnancy and after

Ingredients

Alcohol**, neroli floral water*, aqua, perfume* (from 100% pure essential oils: coumarin, limonene, linalool, citral)
* Ingredients from organic farming
**Made from organic ingredients
30ml

- Tonka: gives a feeling of safety and security, can regulate the serotonin balance and has a sleep-promoting and relaxing effect.
- Vetiver: grounding and regenerating, motherly protective scent.
- Bergamot: anxiolytic and nerve relaxant, regulates the nervous system.
- Orange: Spreads cheerfulness, brightening, relaxing.
- Neroli: calming, balancing, mood-enhancing.

That's how it's done

Spray on the pillow before bed. Lie back, enjoy the soft scent and settle into sleep. Perfect to use on sofa cushions to lull you into a quick power nap while baby rests.
Matriarchy postcard

Matriarchy is on the way!

Send this postcard to your mother, sister or friend and let them know.

Illustrated by Sofia Surma
Printed in Austria
With your purchase you support womxn-owned businesses and the matriarchy ;-)
View full details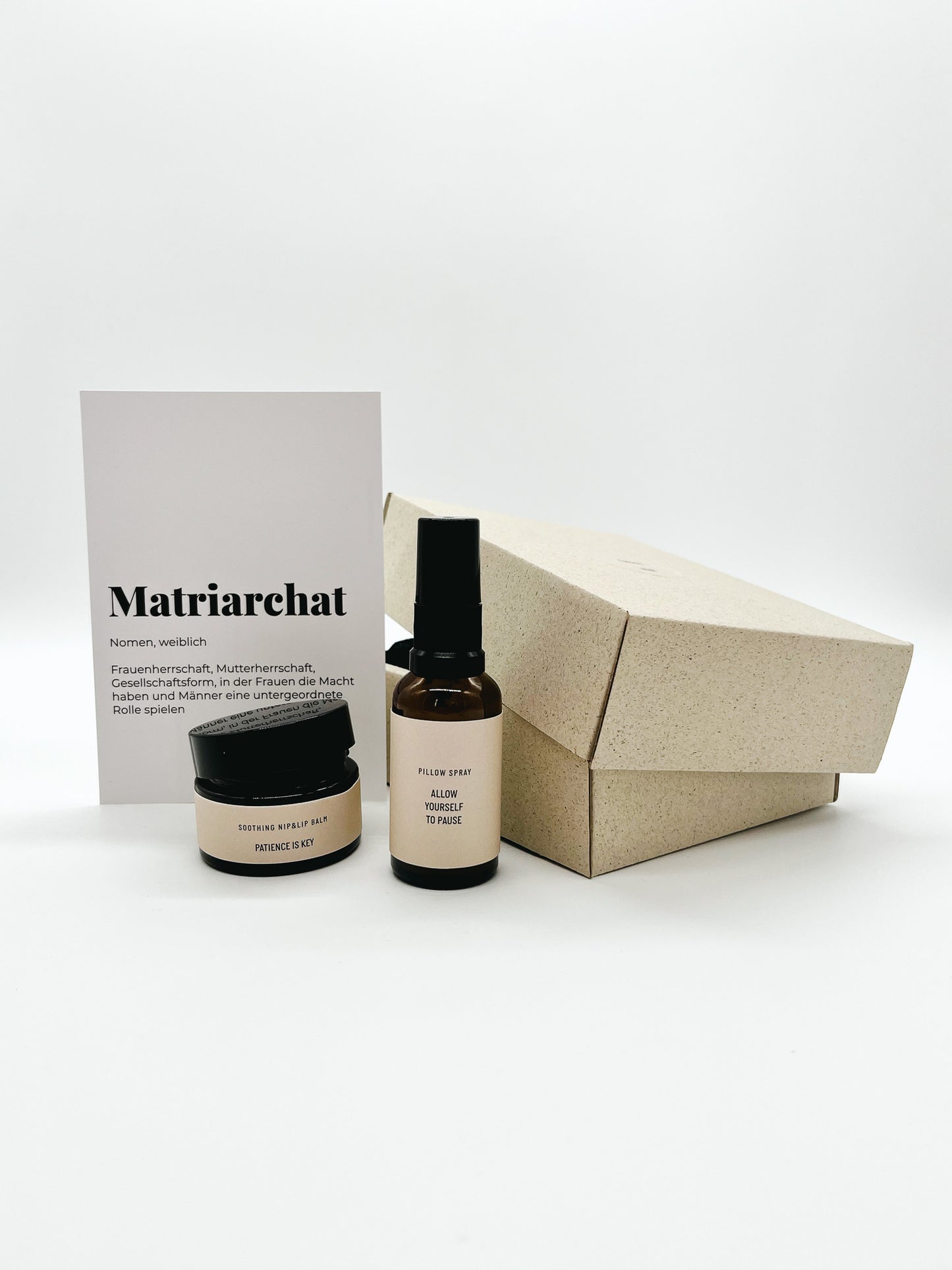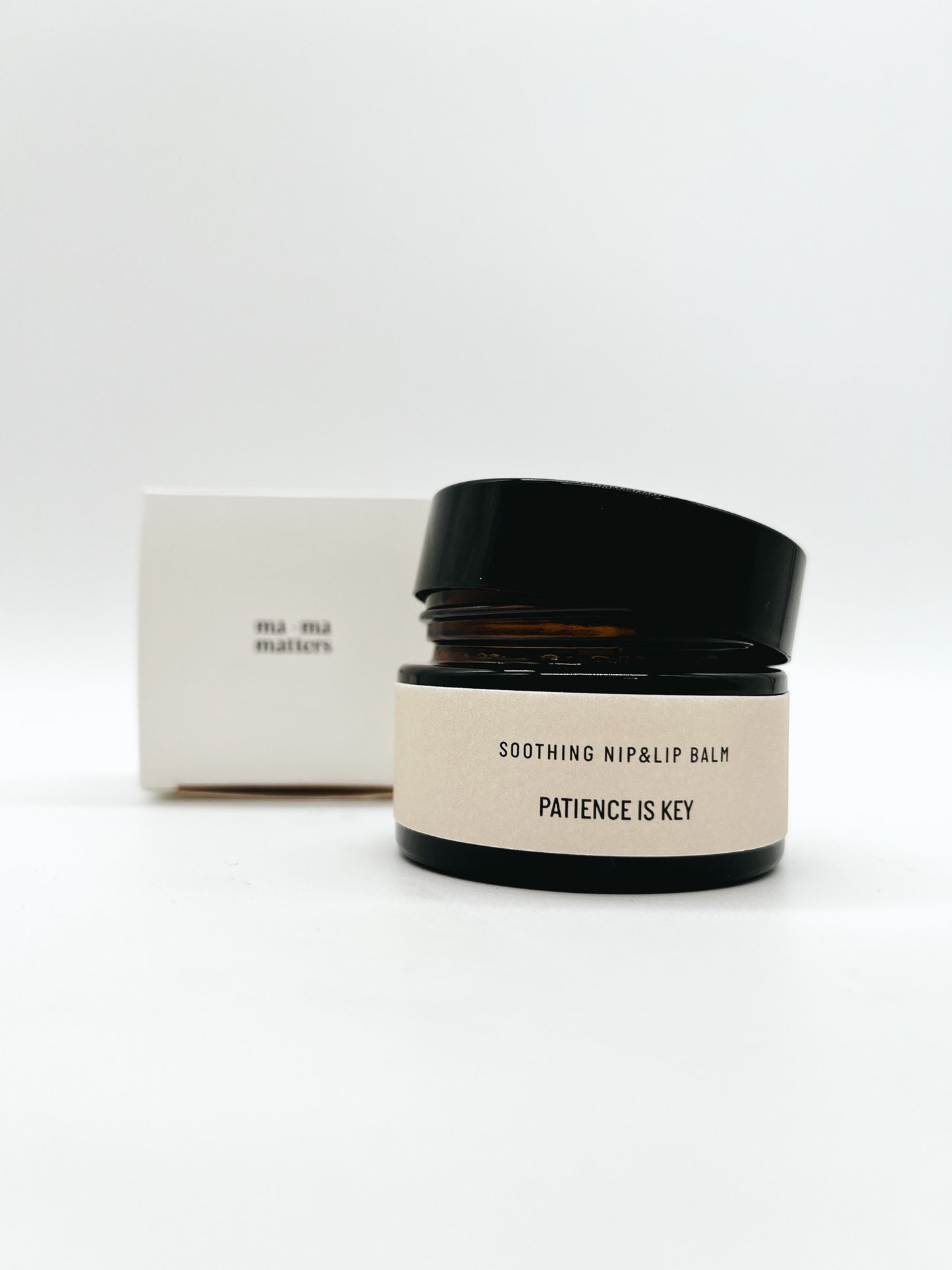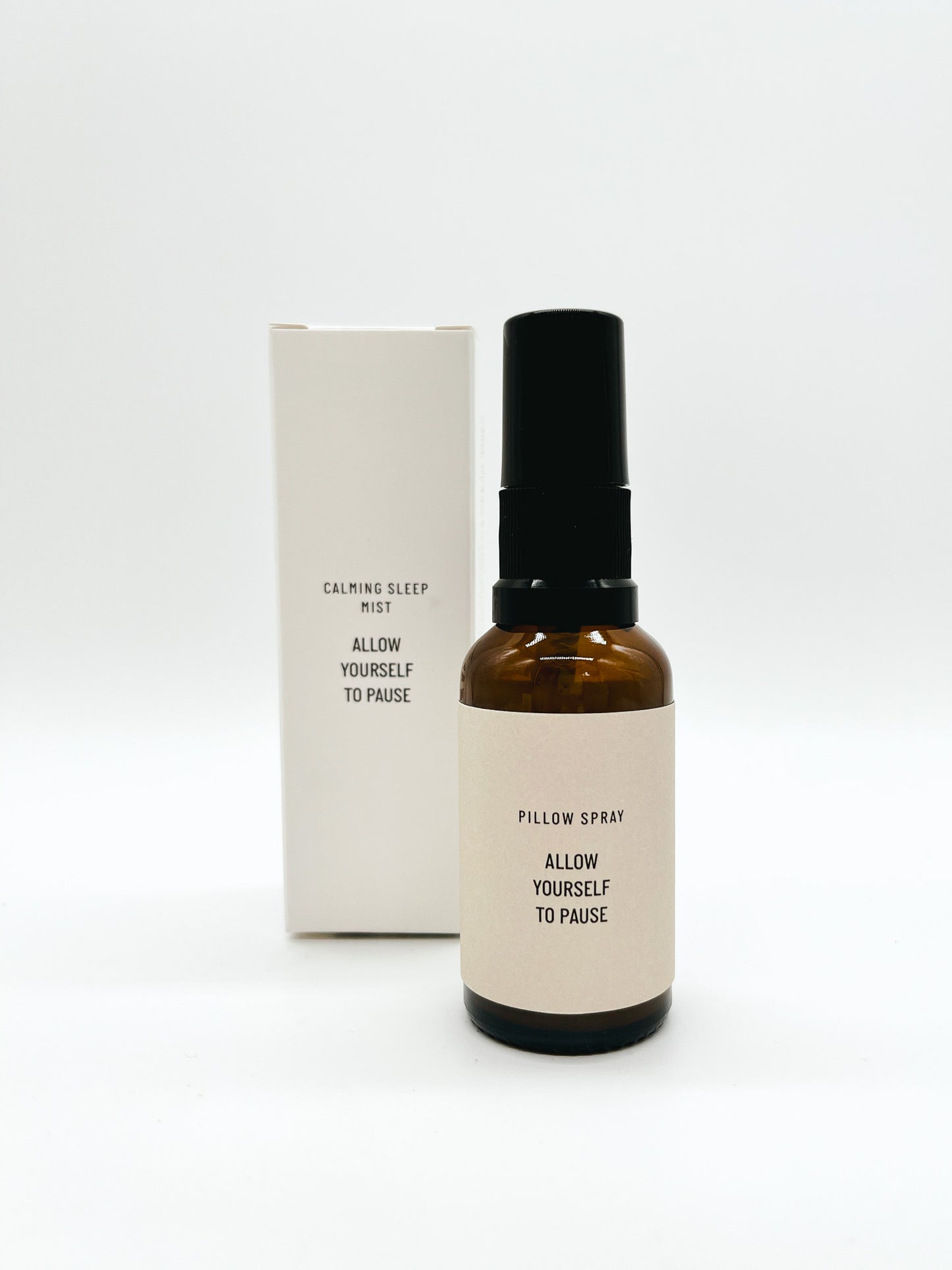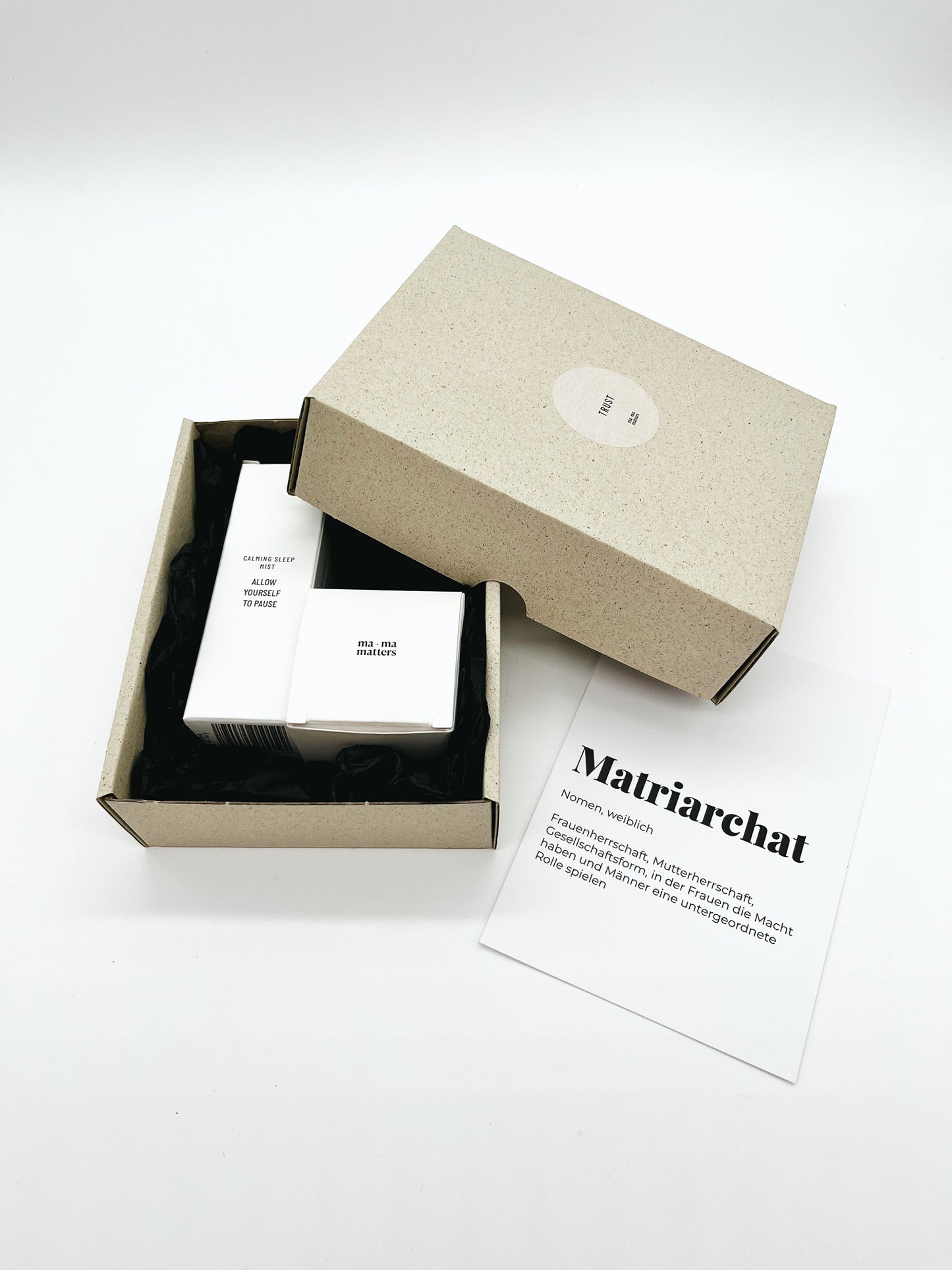 Gutes Gewissen vorprogrammiert
Fühle mich toll mit diesem einzigartigen Geschenk für meine Mama! Ich schenke ihr damit nicht nur die Inhalte der Box sondern auch das volle Empowerment Paket, indem ich kleine Frauen*-geführte Unternehmen unterstütze. Und das ganze noch dazu mit komplett nachhaltigen Produkten und Verpackungen!
Would like more? We also!

Discover our most popular collections now.
This is how we send our packages
To Austria

Free from a purchase value of 100€. Otherwise 5€.

To Germany

Free from a purchase value of 100€. Otherwise €9.

To the EU (excl. Liechtenstein)

Depending on the EU country, between 10€ and 25€ shipping.
We pack as environmentally friendly as we can

We use 70% recycled and recyclable cardboard

and 80% recycled shipping bags

We try to send as few individual shipments as possible - for the sake of the environment ❤️